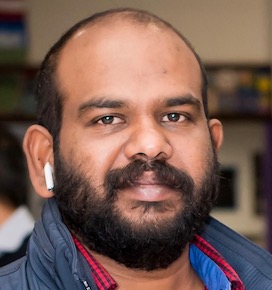 I am Alfus Inigo Jaganathan, a Solutions Architect by profession, but an open source contributor and technical blogger by pasion. Currently, I am working as Staff Solutions Architect at VMware Tanzu Pivotal Labs, before which I was an Advisory Solutions Architect part of Application Transformation Unit at Pivotal. In these roles, I work predominantly on Microsoft Technologies, focusing on Cloud Foundry based PaaS, Kubernetes, .Net Core, .Net, Web API, MVC, WCF and Relational & Scalable database systems.
My past experience includes various roles such as developer, technical lead, solutions architect in Cognizant Technology Solutions US & India, Quintegra Solutions India, etc., where I gained extensive experience in providing enterprise scale solutions, architecting and transforming (re-platforming & modernization) monolithic .NET applications to 12 factor applications targeting PCF platform with .Net Core/.Net.
I have also written variety of technical papers, cook books and recipes resulting as key material for technology stack decisions, design solutions, etc. together with multiple training sessions on XP, TDD, 12 factors within my current and previous organizations.
From a delivery perspective, I have worked on multiple critical MVPs, right from discovery, scoping, design, solutioning and delivery of multiple MVPs, across the organization for various customers.
I am also pursuing Post Graduate Program in Artificial Intelligence and Machine Learning: Business Applications, in the interest of expanding my knowledge around modern systems.
If you are interested in knowing more about me, please refer to my linkedin profile here
Open Source Contributions
I am an owner and individual contributor of various open source projects, including cloud foundry extension buildpacks. For more details, please refer here
Presentations
I have done couple of public talks around Cloud Migration especially focussed on Replatforming of ASP.NET applications to Cloud Foundry. For more details, please refer here